Vans New U.S. Open of Surfing Title Sponsor
Thursday, February 7, 2013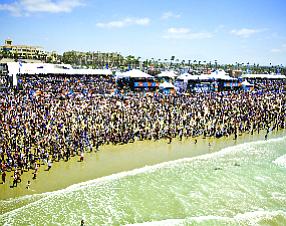 Cypress-based skate brand Vans Inc. inked a three-year deal to be title sponsor of the annual U.S. Open of Surfing.
The annual, multi-day event held in Huntington Beach is produced by New York-based IMG Worldwide.
The main sponsorship of the event was left open when Beaverton, Oregon-based Nike Inc. declined to renew its contract as title sponsor late last year.
Nike's Costa Mesa-based Hurley International LLC and Andover, Mass.-based Converse Inc. units also declined to renew deals for secondary sponsorships of the surf event.
"As we continue to grow our role in surfing, the US Open and the city of Huntington Beach afford us one of youth culture's most powerful events to share our spirit of Off the Wall with millions of people," said Vans Vice President of Marketing Doug Palladini.
The sponsorship another move on surfing. Vans parent VF Corp. of Greensboro, N.C. and Palo Alto private equity firm Altamont Capital Partners have made a $550.8 million bid for Australia surfwear company Billabong International Ltd. earlier this year.
This year's U.S. Open of Surfing is expected to run July 20-28.
Last year's event attracted about a million visitors to Huntington Beach over a nine-day run that brought surfing and skateboarding competitions, live music and other entertainment.