Hyundai Announces New CEO
Friday, December 27, 2013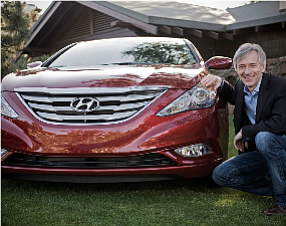 Hyundai Motor America Inc. said Friday Chief Executive John Krafcik will step down at the end of the year when his contract with the company ends.
Hyundai Executive Vice President of Sales David Zuchowski will take the top spot, effective Jan. 1.
Krafcik was named CEO at the automaker in the middle of the recession and is credited with leading the company during a time that saw Hyundai gain market share and greater brand awareness in the U.S. Hyundai rolled out seven new vehicle designs in a two-year period during Krafcik's tenure that helped the automaker regain its footing here.
Zuchowski joined Hyundai in 2007 from Irvine-based Mazda North American Operations, where he was vice president of sales and field operations.
The announcement follows the recent completion of the company's new Fountain Valley office campus after being temporarily headquartered in Costa Mesa the past couple of years.