Vans Triple Crown Claims 3.5M Viewers
Friday, December 20, 2013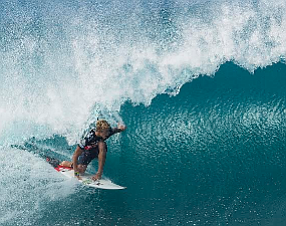 More than 3.5 million fans watched Vans Triple Crown of Surfing online, the largest audience ever for an action-sports event, according to organizers.
The live webcasts from Hawaii were hosted on Vanstriplecrownofsurfing.com site. They featured three championship events held on Dec. 14: The Reef Hawaiian Pro; the Vans World Cup of Surfing; and the Billabong Pipe Masters.
The Billabong Pipe Masters set a one-day surfing viewing record, with more than 1 million fans watching 596,000 hours of streaming video. A mid-season major league baseball game, in comparison, draws on average 150,000 TV viewers.
Doug Palladini, vice president of global marketing for Cypress-based apparel and footwear maker and retailer Vans, credited the popularity of the webcast to multiple camera angles, instant replay, hi-definition super-slow-motion effects and viewers' ability to interact with the show hosts. Ten-foot waves, ridden by sport's favorites such as John Florence, Kelly Slater and Mick Fanning, didn't hurt the ratings either.
"The quality of production, streaming and audience size make surfing the new gold standard in live interactive events," Palladini said. "We are blessed to have had the best surfers in the world collaborating with Mother Nature this year."