Activist Shareholder Explores Wet Seal Buy
Wednesday, December 18, 2013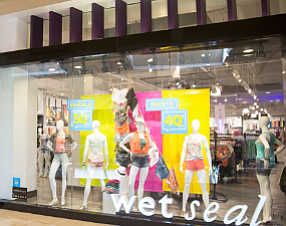 Activist shareholder Clinton Group Inc. said it is exploring the possibility of buying Wet Seal Inc.
The New York-based investment firm said in a filing with the Securities and Exchange Commission that it was looking into taking the teen and contemporary retailer private.
Clinton Group also said in the filing that it now has an 8.1% stake in the company, up from 7.82%.
The firm has been a vocal critic of the company since last year, and its complaints already have led to the firing of former Chief Executive Susan McGalla and an overhaul of the board.
The retailer, which operates 471 Wet Seal stores for teens and 59 Arden B stores for young women, has been grappling for a turnaround for several years, a period that has seen several CEOs. It recently delivered disappointing guidance for the current quarter amid a rugged holiday shopping landscape for teen retailers.
Wet Seal expects a loss in the range of $11.76 million to $14.28 million in the January quarter. Analysts expected a profit of $840,000.
The company said it expects current quarter net sales in the range of $134 million to $137 million. That's down from $161.7 million in the year-ago period and missed Wall Street analyst estimates of $154.52 million.
Wet Seal shares were down about 2% in afternoon trading Wednesday to a market value of $216.05 million.