PacSun Bright Spot in Rugged Retail Landscape
Friday, December 6, 2013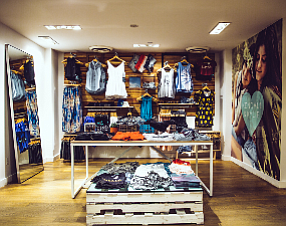 Anaheim-based action sports apparel retailer Pacific Sunwear of California Inc. reported a strong start to its holiday selling season as other chains offered Wall Street disappointing guidance that sent the shares of some plunging earlier this week.
Investors meantime pushed Pacific Sunwear shares up about 22% in afternoon trading Friday, a day after the company reported its January quarter guidance and results for the quarter ended Nov. 2.
The company, which had a recent market value of $231.06 million, operates a chain of 635 stores selling clothing and accessories inspired by action sports, fashion and music.
Pacific Sunwear said same-store sales rose 6% last month and comparable sales are expected to rise in the range of 1% to 5% in the January quarter.
"As we transition into the peak holiday season, we have had a strong start in November with comparable store sales up 6% driven by a number of factors including strength in our emerging brands and unique product assortment, colder weather, and strong Black Friday performance," Chief Executive Gary Schoenfeld said in a statement.
The company's Black Friday and quarterly results show further signs of a turnaround for the retailer as it focuses on women's bohemian trends, upstart brands throughout the store and the ongoing closure of underperforming stores.
Pacific Sunwear said it expects a loss in the range of $9.06 million to $12.84 million in the current quarter, missing consensus estimates of $8.31 million.
Revenue is estimated to be between $216 million to $225 million, also in-line with analyst estimates.
The guidance follows the company's November quarter results, which included an adjusted loss of $3.6 million, on par with analyst projections.
Same-store sales for the quarter rose 1%. Net sales fell about 4% from the year-ago period to $206.6 million, but beat Wall Street estimates of $205.01 million.
Meantime, Pacific Sunwear direct competitor Zumiez Inc. of Lynnwood, Wash. reported earnings guidance for the January quarter that fell short of analyst expectations. The retailer's shares were about flat on Friday to a market value of $791.61 million after trading down about 6% in after-hours trading Thursday.