Mitsubishi Lowers Price on Electric Model
Friday, December 6, 2013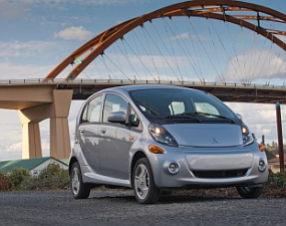 Cypress-based Mitsubishi Motors Corp. cut the price on the 2014 model year of its all-electric vehicle by about 20% in a bid to spur sales.
The 2014 i-MiEV starts at $22,995, which represents a $6,130 reduction from the previous model year.
A $7,500 federal tax credit would lower the price to $15,495.
The automaker also added more standard features to the electric including heated side view mirrors and rear door speakers.
Mitsubishi's move follows similar cuts in electric vehicle prices by other automakers, including Nissan, Ford and General Motors. Automakers in general have seen tepid sales of electric vehicles.
Mitsubishi has sold 1,018 i-MiEVs through November.
The automaker reported overall November sales totaling 6,071 vehicles, up 69.9% from a year ago.
November reflected the first full month of sales for Mitsubishi's new Mirage subcompact, with 1,052 units sold. That beats the 600 units per month in sales the company estimated prior to launch.