Midday Stock Roundup
Friday, December 6, 2013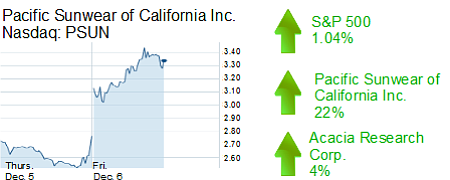 The S&P 500 rose 1.04% to 1,803.51 in afternoon trading Friday.
The Dow Jones Industrial Average was up 1.10% to 15,995.28, while the Nasdaq was up 0.79% to 4,064.98.
The yield on a 10-year Treasury bond rose 0.28% to 2.87%.
The price of gold slipped 0.16% to $1,229.90 per ounce.
RETAIL
Anaheim-based Pacific Sunwear of California Inc. jumped about 22% to $3.37, a day after the company released its January quarter guidance and results for the quarter ended Nov. 2. The action sports retailer, with a recent market value of $231.06 million, said it saw strong results on Black Friday and the rest of November along with its seventh consecutive quarter of same-store sales growth. B. Riley upgraded the company's stock from "neutral" to "buy."
TECHNOLOGY
Newport Beach-based patent licensing company Acacia Research Corp. was up about 4% to $13.88 for a market value of $692.97 million. The company said its subsidiary and Bruker AXS Inc. reached an agreement that settles a pending lawsuit between the two.