Midday Stock Roundup
Thursday, December 5, 2013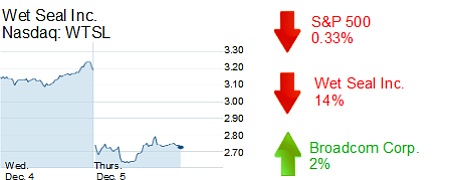 The S&P 500 slipped 0.33% to 1,786.81 in afternoon trading Thursday.
The Dow Jones Industrial Average was down 0.29% to 15,843.85, while the Nasdaq was off 0.11% to 4,033.65.
The yield on a 10-year Treasury bond was up 0.39% to 2.85%.
The price of gold fell 1.19% to $1,232.30 per ounce.
TECHNOLOGY
Irvine-based chipmaker Broadcom Corp. was up about 2% to $27.43 for a market value of $15.58 billion.
A JPMorgan Chase & Co. analyst wrote that Broadcom is expected to see big deals from Samsung along with another smartphone maker.
Irvine-based business software maker Kofax Ltd. began trading on the Nasdaq exchange Thursday with an initial public offering priced at $5.85 per share.
REAL ESTATE
Aliso Viejo-based real estate investment trust Sunstone Hotel Investors Inc. rose about 3% to $12.96 for a market value of $2.37 billion. Raymond James Financial Inc. upgraded the company's stock from "market perform" to "outperform" earlier this week. Sunstone said Monday it closed on its $262.5 million purchase of the 802-room Hyatt Regency San Francisco.
RETAIL
Foothill Ranch-based Wet Seal Inc. slipped about 14% to $2.75 on disappointing guidance for the January quarter as retailers expect a tough holiday selling season. The teen and contemporary retailer had a recent market value of $232.98 million.
Anaheim-based Pacific Sunwear of California Inc. fell about 6% to $2.64 for a market value of $181 million. The action sports retailer is expected to reports its third-quarter results after market close Thursday.
HEALTHCARE
Irvine-based molecular diagnostics company CombiMatrix Corp. jumped about 28% to $3.20 for a market value of $15.16 million. The company said Thursday that the American College of Obstetricians and Gynecologists now recommends CombiMatrix's prenatal genetic testing.