South Coast Plaza Adds Disneyland Resort Ticket Sales to Concierge
Tuesday, December 3, 2013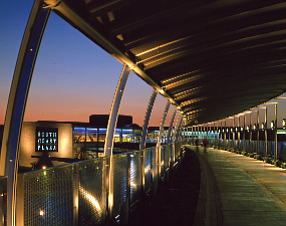 Tickets and annual passes to the Disneyland Resort's two theme parks can now be purchased at South Coast Plaza.
The shopping center, Orange County's largest by taxable sales, said Monday that tickets will be available for purchase at its four concierge desks.
South Coast, which had $1.5 billion in taxable sales for the year ended June 2013, has seen a raft of new tenants and store renovations over the past couple years as the center pushed to solidify its top spot in Orange County's competitive retail landscape.
South Coast has added nearly 10 stores this year and about as many remodels. That follows the nearly 20 stores added last year.
The Disneyland Resort in Anaheim includes the Disneyland and Disney California Adventure theme parks along with three hotels and the Downtown Disney shopping and entertainment district.
A one-day ticket, good for access to one park, is $92 for adults. A park hopper ticket for entry to both theme parks runs $137 for an adult. Annual passes start at $279 for Southern California residents and run as much as $669 for the Premium level.
South Coast is offering a $20 gift certificate with the purchase of certain tickets and annual passes.