Midday Stock Roundup
Tuesday, August 27, 2013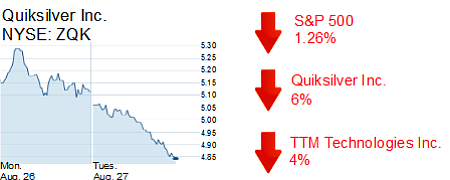 The S&P 500 was down 1.26% to 1,635.83 in afternoon trading Tuesday.
The Dow Jones Industrial Average fell 0.92% to 14,809.07, while the Nasdaq slipped 1.84% to 3,590.38.
The yield on a 10-year Treasury bond was off 2.32% to 2.74%.
The price of gold was up 1.90% to $1,419.60 per ounce.
APPAREL
Huntington Beach-based action sports apparel maker and retailer Quiksilver Inc. fell 4% to $4.90 for a market value of $820.20 million.
Quiksilver rival Billabong International Ltd. of Australia, which has its North American operations in Irvine, reported on Monday a loss of $776.04 million for its fiscal year ended June 30. That's widened from a $248.84 million loss in the year-ago period. Sales fell 5.9%, excluding the impact of exchange rates, to $1.21 billion. Investors sent Billabong shares down about 5% in Australia Tuesday where it's traded on the Australian Securities Exchange to a market value of $236.50 million.
TECHNOLOGY
Costa Mesa-based circuit board maker TTM Technologies Inc. shares were off about 4% to $9.99 for a market value of $825.87 million. Former Executive Vice President and Chief Operating Officer Shane Whiteside sold 80,106 shares in the company, according to Securities & Exchange Commission filing from Monday. Whiteside left the company in July.
Irvine-based disk drive maker Western Digital Corp. was down about 4% to $62.51 for a market value of $14.81 billion. Cupertino-based competitor Seagate Technology plc was also down about 3% to $38.93 for a market value of $13.89 million.