Report: $25M Offer for Fisker
Wednesday, August 21, 2013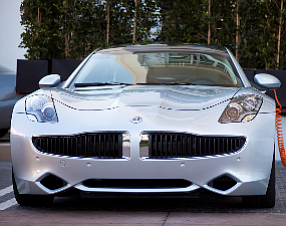 An investment firm in Germany has reportedly made an offer for Anaheim-based Fisker Automotive Inc.
Fritz Nois AG has offered about $25 million for the troubled luxury hybrid automaker, according to German auto magazine Auto Bild.
Fisker had also fielded interest from a group that included China-based Wanxiang Group and startup automaker VL Automotive in Auburn Hills, Michigan, which offered a reported $20 million to buy Fisker as part of a pre-packaged bankruptcy plan.
Production on Fisker's sole vehicle model, the Karma has been on hold since last year after a battery shortage from supplier A123 Systems Inc.
The cash-strapped company drew down about $192 million of a Department of Energy loan before it was frozen after it failed to meet certain production and sales requirements.
Fisker reportedly hired a law firm earlier this year to explore a possible bankruptcy.