IRANIAN IMMIGRANTS CAME FOR QUALITY OF LIFE, BOOSTED OC'S BUSINESS LANDSCAPE
Persian Tug
Saturday, August 17, 2013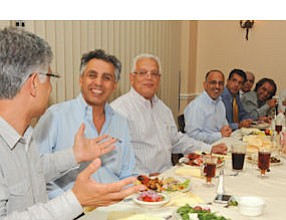 "You could see there was a sense of entrepreneurship after the revolution, because we started to innovate and create things," says Muhaddes, who settled in the U.S. rather than returning to Iran, taking 18 years to make his first visit back to his home country.
That sense of entrepreneurship runs deep in dentist Kianor Shah, an Irvine resident who sued Wal-Mart this year for allegedly stealing his idea for in-store dental clinics.
The same goes for Media Najafi, who also runs a family dentistry in Irvine, and for business consultant Sue Siami.
Najafi left Tehran at age 11 with her mother and younger brother as her father sorted through family finances and sold their home.
One of their first attempts to leave Iran was thwarted after their guide was captured and murdered.
The three fled to Paris after the revolution and later settled with relatives in Philadelphia.
"It was my mom who strongly initiated our move, because she envisioned a better life and future for her children," says Najafi, who earned dual degrees in biochemistry and cell biology from UC San Diego and a doctorate from UC San Francisco.
Her mother was a nurse in Iran, her father an electrical engineer.
"I always loved medicine, because my uncle was a doctor, and I looked up to him and his intelligence and status," she says.

But the Newport Coast resident says she isn't pushing her two young daughters, Vianna and Atrina, in the same direction.
"I don't want them to be in medicine, law or engineering," Najafi says. "I want them to be into the arts and well rounded."
Siami, who launched her consultancy last year, was born in East Lansing, Mich., three months after her parents arrived in the U.S. in 1976. Her father had enrolled in Michigan State University to start work on a master's degree; he later earned a doctorate.
Her parents pushed her to go to law school, but Siami earned an international relations degree from UCLA. She held corporate human relations jobs at Irvine-based chipmaker Broadcom Corp., among others, before establishing Siami HR Group last year in San Clemente.
Siami grew up in a heavily Persian-influenced home, where the family spoke Farsi and celebrated Iranian customs and traditions. They also welcomed U.S. holidays and customs, a balance Siami champions today.
"There are facets of both cultures that I love and some that I don't," she says. "It's great to be in a position where you can pick and choose what works for you and what doesn't."
Prev Next