IRANIAN IMMIGRANTS CAME FOR QUALITY OF LIFE, BOOSTED OC'S BUSINESS LANDSCAPE
Persian Tug
Saturday, August 17, 2013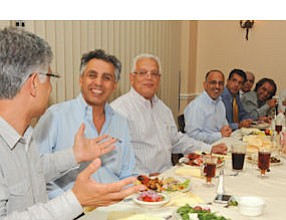 "They came in and started businesses," said Abbas Muhaddes, chief executive of Santa Ana-based traffic analytics and software maker Iteris Inc. "The atmosphere was more welcoming."
The Business Journal's recent OC 50 list of the most influential residents included three Iran-born entries: Paul Merage, chairman of MIG Capital LLC in Newport Beach; Igor Olenicoff, owner and founder of Olen Properties Corp.; and Joe Kiani, founder and chief executive of Irvine-based medical device maker Masimo Corp.
Merage and Olenicoff also were listed as billionaires on the Business Journal's recent OC's Wealthiest issue.
Merage gave $3 million for the Irvine Jewish community center that bears his name.
The OC's Wealthiest list also included Iran-born Fariborz Maseeh, an engineer-turned-financier who heads Newport Beach hedge fund Picoco LLC. Maseeh established University of California, Irvine's Samuel M. Jordan Center for Persian Studies and Culture in 2005 with a $2 million endowment.
Persian Ideals
Persian immigrants, while they aspired for America's opportunities, still hung on to traditional Persian culture and values.
Businesses, including ethnic markets like the Super Irvine, sprouted up to cater to the growing population. The markets carry familiar Persian favorites, such as the yogurt drink aloocheh, a selection of pita breads, fresh white fish, and various cuts of lamb.
They enjoyed the reminders of home while mixing in the flavors of their new home.
"I fell in love with the culture and the U.S.," says Muhaddes, who read Time magazine as a teenager growing up in Khorasan in eastern Iran, a region known for its rich crops of cherries, melons and oranges used in traditional Persian dishes.
He arrived in New York in 1975 as a wide-eyed 18-year-old. His plan was to attend Georgetown University, earn an architectural degree and return home.
A few years into his studies, his government-provided financial resources were shut off in post-revolution Iran, forcing him to work three jobs to pay his way through civil engineering school.
Muhaddes' parents, as in many Iranian families, pushed him into one of two primary professions. The other desired field was medicine.
"Success was measured by whether you were a doctor or an engineer," he says over lunch at Darya restaurant, his favorite Persian eatery, near South Coast Plaza.
Most of the patrons here are speaking Farsi and sharing plates of Zereshk polo, beef koobideh, basmati rice and Shirazi salad.
The entrepreneurial spirit that blossomed after the revolution migrated with many of the Persian immigrants who wound up in Orange County over the years.