IRANIAN IMMIGRANTS CAME FOR QUALITY OF LIFE, BOOSTED OC'S BUSINESS LANDSCAPE
Persian Tug
Saturday, August 17, 2013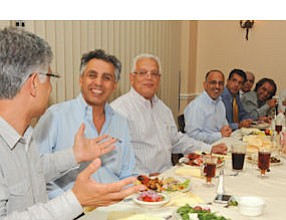 His findings provide a deeper look than most federal government assessments, which don't require residents to identify themselves as Iranians on survey forms, though they can write in that detail.
Hosseini's research found that more than 1.2 million Persians live in the U.S., with about half located in California, which became home to many Iranians after the first big migration in the 1960s.
Higher education was gaining prominence in Iran at the time, fueling an exodus to the West. University of California, Los Angeles, and the university system's main campus in Berkeley were among the early favorites of many students from Iran.
After graduation, a lot of them stayed in California—where the weather is similar to Iran's. They eventually started families, and many brought relatives to join them here.
The suburban quality of life and vibrant business landscape brought many to Orange County, which offered better school systems and safer communities at a time when big cities were struggling with hollowed-out cores, rising crime rates, and falling property values.
The Persian community has thrived here and elsewhere in the U.S. It boasts a median household income of about $70,000, compared with $53,000 nationally, according to census data.
About 60% have undergraduate degrees, and 30% hold master's degrees or higher. Indianapolis-based Lumina Foundation, a private educational foundation, estimates that in 2011, 38.7% of Americans held a two- or four-year college degree. 2011 is the most current year available for analysis.
Prior to the revolution, most Persians immigrating to the U.S. were Muslim, but after the fall of Iran and the ensuing war with Iraq, a flood of Iranians practicing Judaism and Zoroastrianism, the ancient Persian religion, migrated here.
Many wealthier Jews settled in Beverly Hills, giving it the nickname "Little Persia."
Zoroastrian followers and a number of ethnic Armenians who had lived in Iran for years moved to suburban areas north and south of Los Angeles.
Other areas with sizable concentrations of Iranian-Americans include New York, New Jersey, Texas, Florida and Washington, D.C.
"The footprint is all over the place, but especially in Irvine, which was one of the favorite cities," says Hosseini, who arrived in the U.S. in 1976 to attend Iowa State University in Des Moines.
Prominent Players
Persian influence has boosted the Orange County business landscape for generations.
Some of the first migrants were student doctors who later established practices here. Attorneys, accountants and engineers soon followed, propping up the technology and professional services sector and laying the foundation for future transplants.