FINALIZES $115M MORTGAGE FOR CYPRESS VILLAGE APTS.
Irvine Company, Light on Debt, Takes Out Big Loan
Saturday, August 17, 2013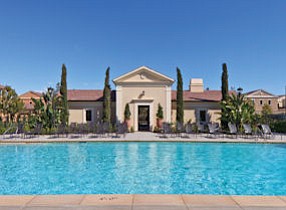 Privately held Xebec has historically focused most of its efforts in and around Los Angeles. It has nearly 1.5 million square feet of industrial projects under way in the area.
But the company is also exploring projects outside of Southern California.
In March, it partnered with Aliso Viejo-based CT Realty Investors to buy a 530-acre tract of land about 12 miles south of downtown Dallas.
The two companies are planning to build a campus to hold close to 9 million square feet of large industrial buildings.
CT Deals
CT Realty also has its hands full with a few new projects.
The company, an active real estate investor and developer in the Inland Empire of late, this month opened the doors of a 600,000-square-foot distribution building in the Riverside County city of Beaumont.
Icon Health & Fitness Inc., the Utah-based owner of NordicTrack, Weider and other fitness brands, is leasing the entire project. This year, it signed an eight-year lease with CT Realty for the property in a transaction valued at more than $16 million.
Closer to home, CT Realty recently bought a 102,700-square-foot industrial building in Huntington Beach in a venture with Artemis Real Estate Partners of Chevy Chase, Md.
The building, at 17311 Nichols Lane, traded hands for $10.6 million and was sold by an affiliate of locally based Bent Manufacturing.
The building was empty at the time of purchase, but the new owners have already found a tenant. Driessen Aircraft Interior Systems Inc., which makes galleys for commercial and private aircraft, is leasing the building under a 10-year deal valued at about $9.1 million.
Driessen, whose U.S. operations are currently based in Garden Grove, is a unit of France-based Zodiac Aerospace.
Darin McDonald and Ted Sawyer, both of whom are with Lee & Associates' Newport Beach office, represented CT Realty and Artemis in the Nichols Lane acquisition. Jeff Read and Scott Read of the Newport Beach office of Newmark Grubb Knight Frank represented the seller.
Lee & Associates' McDonald and Sawyer also represented Driessen in the lease transaction.
Prev Next