FINALIZES $115M MORTGAGE FOR CYPRESS VILLAGE APTS.
Irvine Company, Light on Debt, Takes Out Big Loan
Saturday, August 17, 2013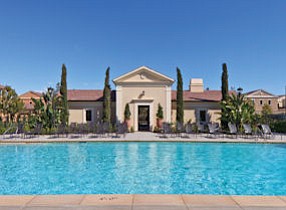 Newport Beach-based Irvine Company has taken out a sizable loan for one of the four apartment complexes it has built in the new Cypress Village neighborhood in Irvine. But the company is still debt-light compared to the rest of the industry.
Sources peg its debt level at 40% or less for its commercial real estate portfolio, on the low side for a real estate company.
The largest apartment owner in the state recently finalized a $115.4 million mortgage for Murano, one of four complexes it built at the 1,677-unit Cypress Village project on Jeffrey Road next to the Santa Ana (I-5) Freeway.
The loan was made with Arlington, Va.-based Prudential Multifamily Mortgage LLC, according to property records. Terms of the loan were not immediately available.
Murano has 624 units and runs about 434,000 square feet, according to CoStar Group Inc. records. The mortgage equates to about $185,000 of debt for each apartment.
Murano is the only one of the four complexes that property records show has debt tied to it.
Officials with Irvine Co. declined to comment on the transaction.
The Cypress Village apartment project opened last year and is Irvine Co.'s second-largest rental community in OC, trailing only the under-construction Los Olivos development in the Irvine Spectrum that will have 1,750 apartments when finished.
The mortgage loan is the second notable financing deal involving privately held Irvine Co. to come to light in recent months.
In May, the company's office division finalized an $875 million financing deal tied to 4.8 million square feet of office space it owns in Orange and Los Angeles counties.
Xebec Building
Seal Beach development and management company Xebec Realty Partners Inc. is planning a three-building, 330,000-square-foot industrial park in the San Gabriel Valley.
The 22-acre project, called the 10th Street Center, is going up in the city of Azusa on land Xebec bought in June from Shell Oil Co. on undisclosed terms.
The project, first reported in our sister publication in Los Angeles, is expected to cost about $33 million to build.
It's expected to break ground in the fourth quarter and be completed by the end of next year.
Xebec intends to hold and lease the majority of the project but is open to selling portions of it, Randy Kendrick, the company's founder and chief executive, told the Los Angeles Business Journal.
Kendrick said the value of the completed project would be about $125 a square foot, or a little more than $41 million.
Prev Next