Quantum Regains Nasdaq Compliance
Thursday, August 15, 2013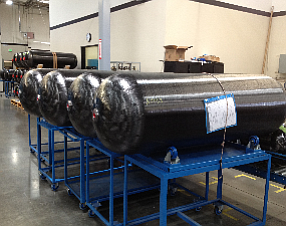 Quantum Fuel Systems Technologies Worldwide Inc. has regained compliance to trade on the Nasdaq stock market, the Lake Forest-based company said Thursday.
The company was in jeopardy of a delisting for failing to meet the exchange's minimum $1 bid price for 10 consecutive days, but its July 30 reverse stock split seems to have quelled those concerns.
The split of its common stock, which combined four shares into one, propped up its share price to more than $2, where it has been traded for the past two weeks.
Investors may have welcomed the disclosure, pushing shares up nearly 1% in after-hours trading to a market value of about $29.4 million. Its shares were down 3.8% at the close of Thursday's day trading session on an overall down day for stocks as retail bellwether Wal-mart reduced its sales outlook for 2013 and Cisco, the world's largest networking equipment maker, provided a revenue outlook that missed targets, drawing larger concerns on global information technology spending.
Quantum on Wednesday reported second quarter sales of $6.1 million, up nearly 13% from a year earlier. It posted a net loss of $7 million, compared to a net loss of $4.5 million a year ago.
The company is undergoing a transition to exit from unprofitable renewable energy sectors and refocus efforts on producing natural gas storage tanks, its primary source of revenue.
The bid-price requirement has been a challenge for Quantum in recent years. The company, which began trading publicly in 2002, received a delisting notice from Nasdaq in September 2010. It implemented a 1-for-20 reverse stock split of its common stock in February 2011.
Quantum late last year transferred from the Nasdaq Global Market to the Nasdaq Capital Market. The transfer gave the company through the end of April to regain compliance with the exchange's $1 minimum bid price requirement.