Midday Stock Roundup
Thursday, August 15, 2013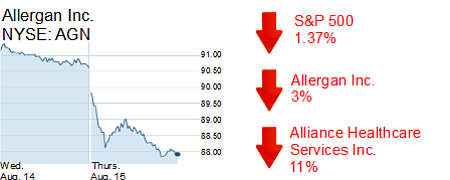 The S&P 500 was off 1.37% to 1,662.32 in afternoon trading Thursday.
The Dow Jones industrial average fell 1.43% to 15,119.04, while the Nasdaq slipped 1.59% to 3,610.83.
The yield on a 10-year Treasury bond rose 1.99% to 2.77%.
The price of gold was up 2.20% to $1,362.70 per ounce.
Irvine drug maker Allergan Inc. shares were off about 3% to $88.03 for a market value of $26.06 billion. Patents on two of the company's glaucoma drugs were revoked in India last week.
Newport Beach-based Alliance Healthcare Services Inc. was down about 11% to $22.05 for a market value of $234.32 million. An article published Wednesday at online investor site Seeking Alpha raised caution for Alliance investors with the upcoming implementation of Obamacare and proposed reductions in Medicare reimbursement fees that could reduce Alliance's revenue.
Shares of Irvine-based Biolase Inc. surged about 51% to $1.81 after the company announced a dividend payable next month. Biolase had a recent market value of $57.27 million. The company closed down about 33% on Wednesday when it disclosed earlier in the week that Comerica Bank waived the company's noncompliance on a loan agreement condition until Sept. 13.