Arena Football Coming to OC, Kiss Front Men Headline Ownership
Thursday, August 15, 2013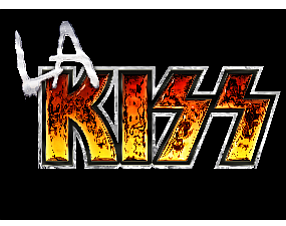 Professional football is coming back to Southern California and the Honda Center.
The LA Kiss, arena football's newest franchise, will kick off its inaugural season next year in likely raucous fashion.
The ownership team includes Gene Simmons and Paul Stanley, the front men of the flamboyant rock band Kiss, the band's longtime manager, Doc McGee, and arena football insider Brett Bouchy, who plans to move to Orange County.
"We're going to create a full sensory experience for the fans," Bouchy, a former owner of the league's Orlando Predators, told the Business Journal Wednesday. "Once they sample our product, they'll fall in love with it."
Queue the power cords, fire pits and pyrotechnics.
The ownership group made the announcement early this afternoon at a press conference in Orlando during ArenaBowl XXVII festivities.
Arena football, invented in 1981, is played on a smaller field than the traditional American game, typically in hockey and basketball stadiums, and features a high-scoring, fast-paced style. Players are in-bounds until they get knocked over sideline barriers, and missed field goal attempts can be rebounded off netting behind the skinny goal posts and played live.
The 14-team league is broken down into four divisions. The San Jose Sabercats were California's lone team. The Los Angeles Avengers, which played at Staples Center from 2000 to 2008, shuttered operations in 2009, when the Arena Football League canceled its season amid deep financial losses.
The ownership group formed after a mutual friend introduced Bouchy to McGee, who held similar ideas of fusing the indoor sport with music and entertainment—Kiss' longtime recipe for success that's traversed four decades.
"Sometimes, sports take themselves too seriously," said Bouchy, who became an instant fan in 1996 after nabbing front-row seats with his two sons for an Arizona Rattlers game. "We understand it's entertainment."
The LA Kiss is partnering with the Anaheim Ducks and expects to draw 15,000 fans to home games at the Honda Center for its inaugural season, which begins in April, Bouchy said.
A head coach and management team will be hired in the next few months, and players will be selected through an expansion draft this year.
Not missing a marketing opportunity, the organizers announced season tickets go on sale today for $99 and include a ticket to a separate Kiss concert.
The league's championship game is on Saturday between the Arizona Rattlers and Philadelphia Soul, which entered the league in 2004 under majority owner Jon Bon Jovi, who has since sold his stake.
The game will be televised on CBS, marking arena football's return to national broadcasts after a three-year absence that included the canceled season of 2009, when the league restructured finances to improve its business model.