REAL ESTATE: BIGGEST OC BUY FOR NB-BASED DEVELOPER IN SEVERAL YEARS
Olen Pays $73.5M for Office Complex in Irvine Spectrum
Sunday, August 11, 2013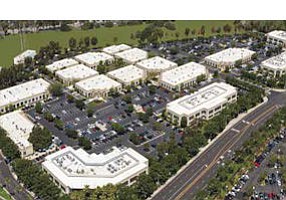 Olen was also assisted in the valuation and bidding process by Don Curtis, who is with the Irvine office of brokerage and investment advisory firm Holliday Fenoglio Fowler LP.
The property got heavy interest from REITs, pension fund advisers, and other national institutional investors, as well as local investors, according to Jeff Cole, executive director with the Irvine office of Cushman & Wakefield Inc.
Cole represented the sellers in the deal, along with colleagues John Gallivan, Ed Hernandez and Don Yahn.
Interested buyers "didn't just see what the site was but what the site could be," Cole said. "We're talking about a 'creative space environment' that has potential to attract the sort of tenants you're used to seeing in Silicon Valley to South Orange County."
The property's location, tenant base, and office design provide the new owners plenty of upside, according to Yahn, a senior director at Cushman who has handled leasing at Irvine Oaks for the past five years.
The property, near the San Diego (405) Freeway, is one of the largest office parks on the western edge of the Irvine Spectrum, and that's appealing to tenants looking to be closer to the area around John Wayne Airport.
The complex also has its share of space that can be reconfigured to attract users of creative-office space, Yahn said.
Among those types of tenants is Newport Beach-based homebuilder William Lyon Homes, which recently inked a nearly 10,000-square-foot lease at Irvine Oaks.
The space will be used as a new home showroom for the company, which has several residential developments under way in the area.
Irvine Oaks brings in about $4 million in rents annually, according to marketing material for the property.
Rents for new deals at the complex are up nearly 25% from a year ago, Yahn said.
"Rents have been progressively going upward," he said.
"We've seen a trend of companies looking for and willing to pay for creative-work spaces," Cole added.
The one- and two-story buildings at the complex range from about 6,250 square feet to nearly 59,000 square feet.
Other large tenants at the campus include MaxLinear Inc., a semiconductor company; RAI Care Centers of California, a kidney dialysis company; and the Irvine Center for Early Childhood.
Prev Next