Wet Seal Up on Positive Same-Store Sales
Thursday, August 8, 2013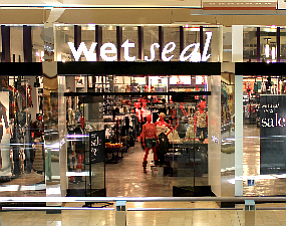 Shares of Foothill Ranch-based teen retailer Wet Seal Inc. rose on Thursday after the company said its quarterly same-store sales swung back to growth and earnings are expected to fall within a previously provided guidance range.
Wet Seal shares were up about 4% on Thursday to a market value of $395.94 million.
The company operates a chain of 464 Wet Seal stores for teens and 61 Arden B stores for young women.
Retailers' were generally up in afternoon trading on Thursday after falling earlier this week on lowered second-quarter earnings guidance from Pittsburgh-based teen retailer American Eagle Outfitters Inc. as chains gear up for the back-to-school selling season. That was followed by Lynnwood, Wash.-based action sports retailer Zumiez Inc.'s report of same-store sales for the four weeks ended Aug. 3 that fell below analyst expectations.
"We're pleased to see the business return to positive comp store sales, particularly against the backdrop of a challenging retail environment in June and July," Wet Seal Chief Executive John Goodman said in a statement. "While sales trends softened during the latter months of the period, we generated positive comparable store sales each month of the quarter and achieved an improved blend of regular and promotional pricing."
The company said its Wet Seal division saw same-store sales for the quarter ended Aug. 3 up 3.9% compared to an 11% decline in the year-ago period.
Net sales for the Wet Seal chain during the quarter grew 6% to $120.5 million.
Net sales for Arden B plunged 22.5% to $16.7 million.
Same-store sales for the contemporary retailer grew 2%. That compares with an 11.6% decline a year earlier.
Goodman said the effects of new leadership at Arden B are expected to "have a more pronounced impact on both merchandise and brand positioning" in the current quarter.
Tamara Chamberlain joined the company in April as vice president and general merchandise manager of Arden B. She came to the company from bebe stores Inc.
Wet Seal said it expects August quarter earnings to be $885,034. That's in line with previous guidance of flat to $2.07 million.
Wet Seal is expected to release full results for the August quarter on Aug. 27.