STEC Revenue Down, Losses Up
Wednesday, August 7, 2013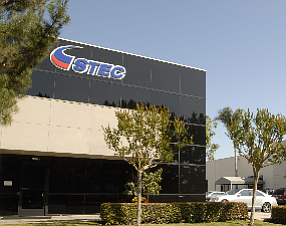 Santa Ana-based STEC Inc. on Wednesday reported another disappointing quarter in what could be its last as a public company.
The disk drive maker reported revenue of $23.5 million for the period, down 42.3% from a year ago and missing Wall Street expectations of $24.2 million.
It posted an adjusted loss of $19.9 million, compared with an adjusted loss of $12.3 million a year earlier.
Analysts on average had expected an adjusted loss of $19.6 million.
STEC makes solid-state drives, which use chips instead of spinning disks to store data.
The company did not provide any comments in its earnings release and will not hold a customary conference call today, citing its pending sale to Irvine-based disk drive maker Western Digital Corp.
Western Digital is slated to acquire STEC in a $340 million cash deal that could close within weeks, or the next quarter at the latest.
The deal equates to a price of $6.85 per share, about 85% higher than STEC's opening share price on June 24, the day the deal was announced.
STEC will fall under the umbrella of Western Digital's Hitachi Global Storage Technologies Ltd. unit, which it acquired last year for $4.3 billion.
STEC shares were flat at the close of trading today, with a market value of about $318 million.