Midday Stock Roundup
Monday, August 5, 2013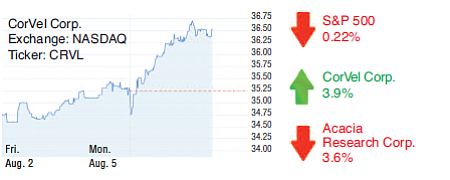 The S&P 500 fell 0.22% to 1,705.84 in afternoon trading Monday.
The Dow Jones Industrial Average was off by 0.36% to 15,602.76, and the Nasdaq slipped 0.10% to 3,685.95.
The yield on a 10-year Treasury bond was up 2.19% to 2.66%.
The price of gold fell 0.76% to $1,300.50 per ounce.
Irvine-based CorVel Corp. shares were up nearly 4% o $46.62, continuing a positive run after last week's report of better-than-expected revenue and profit for the June quarter. The company had a recent market value of about $788 million. It provides workers' compensation technology services to insurance companies, government agencies and other employers.
Shares of Newport Beach-based Acacia Research Corp. were down more than 3% to $21.93. The company announced its Digitech Image Technologies LLC subsidiary has signed a settlement and licensing agreement with Casio America Inc. and Casio Computer Co. Ltd, ending litigation that was pending in the U.S. District Court for the Central District of California. Acacia also announced a similar settlement with Hewlett-Packard Co. for another subsidiary, resolving litigation pending in the District Court for the Eastern District of Texas. A series of insider selling reported last Friday pushed along a drop in the stock price Monday morning, to a market value of about $1.08 billion.