Sanuk Q1 Business Softens, Full-Year Outlook Lowered
Monday, April 29, 2013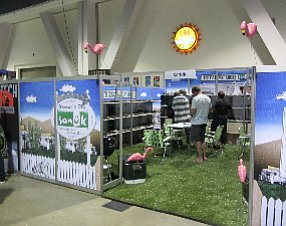 A slowdown in international sales offset gains made domestically during the first quarter for Irvine-based Sanuk USA LLC.
The shoe company, part of Goleta-based Deckers Outdoor Corp., saw first-quarter sales fall 4.4% to $30.9 million.
Domestic sales rose during the quarter, while international sales—mainly in Asia—fell.
The company now expects to see sales growth for the year up 10% to 13%, down slightly from initial guidance of 15%. Sanuk had net sales of $94 million last year.
Sanuk saw the opening of its first company-owned store in the U.S. during the quarter. The store's location, at Third Street Promenade in Santa Monica, was tapped for its ties to surf culture and for its tourist draw, Deckers Chief Executive Angel Martinez said during a conference call with analysts.
"It's the meeting of these two worlds that serves as the basis for our strategy with the Sanuk brand," Martinez said. "First and foremost, we must continue to connect with our core customer who influences much of the U.S. market and other markets inspired by surf culture. At the same time, we need to expand the brand's conversion beyond the beach and evolve the product line to reach new audiences, while still retaining and maximizing our current audience."