Midday Stock Roundup
Monday, April 29, 2013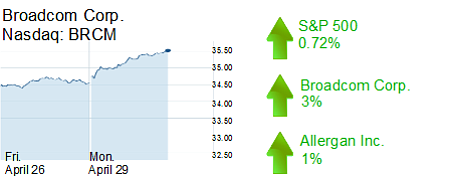 The S&P 500 rose 0.72% to 1,593.68 in midday trading Monday.
The Dow Jones industrial average was up 0.67% to 14,810.47, while the Nasdaq was up 0.97% to 3,310.92.
The yield on a 10-year Treasury bond fell 0.06% to 1.66%.
The price of gold rose 0.90% to $1,466.70 per ounce.
TECHNOLOGY
The broader technology sector was up Monday afternoon, following a number of quarterly earnings reports last week.
Shares of Irvine-based chipmaker Broadcom Corp. rose about 3% to $35.45, for a market value of $20.24 billion.
Irvine disk drive maker Western Digital Corp. was up about 3% to $54.64, for a market value of $13.06 billion. TheStreet ratings reiterated its "buy" recommendation on the company's stock.
HEALTHCARE
Irvine drug maker Allergan Inc. rose more than 1% to $113.33 for a recent market value of $33.81 billion. Allergan is expected to report its first-quarter earnings on Wednesday.