REAL ESTATE: APT. COMPANY TAPS SANTA ANA FOR LOCAL GROWTH
Lyon Communities Makes Its Marke
Sunday, April 28, 2013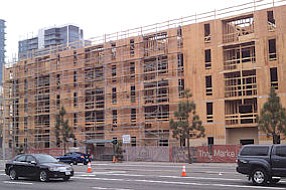 The developer's new project won't have far to look for competition. The Marke sits just down the street from Essex Property Trust Inc.'s two-building Skyline at MacArthur Place towers, OC's tallest residential property and one of the county's most expensive rental projects.
Suryan said he isn't worried about losing prospective tenants to the 25-story Skyline towers due to what he says are superior amenities at his site.
"All they have is their height," he said.
There's expected to be less competition for Lyon Communities' second Santa Ana project. The company recently closed on the purchase of a 5.2-acre site across the street from the Xerox Centre office tower on East First Street.
Prior owners wanted the site, near the intersection of the Costa Mesa (55) and Santa Ana (I-5) freeways, to hold a pair of 23-story condominium towers during the last housing boom, but Lyon Communities now envisions a midrise project totaling about 200 units.
It'll be the first major apartment complex to go up in that area in several years. "We'll be the only game in town," said Suryan, who noted that his company isn't likely to build in Irvine due to the heavy amount of apartment construction now under way there.
Suryan envisions the First Street project, which could break ground later this year, as a "mini-Marke" with similar amenities to the South Coast Metro project. He said the site's location in Tustin's school district also is expected to draw its share of families.
Suryan said he speaks with Gen. Lyon and his son, Bill H. Lyon—who was recently appointed chief executive of William Lyon Homes—a couple of times a month.
COO Add
Lyon Communities, like the homebuilder, recently saw a switch in its management team, bringing on Trent Brooks late last year as its new chief operating officer, a new position at the company.
Brooks, a former managing director for the Irvine office of real estate finance and investment company CW Capital, oversees business operations for the company, leaving Suryan free to scout development and acquisition sites, as well as line up financing for deals.
Investors in the company's projects tend to be wealthy individuals, as well as larger institutional investors like UBS, Colony Capital and Cornerstone Real Estate Advisers.
Prev Next