REAL ESTATE: APT. COMPANY TAPS SANTA ANA FOR LOCAL GROWTH
Lyon Communities Makes Its Marke
Sunday, April 28, 2013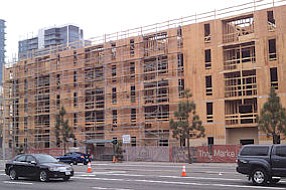 Lyon Communities may not grab as many headlines as its cofounder's homebuilding company, but that's not due to a lack of success at the Newport Beach-based apartment company.
"It's a great time to be in the rental business," said Frank Suryan Jr., chairman and chief executive of the apartment developer and owner, which has about 11,000 units in its portfolio.
Suryan started Lyon Communities 25 years ago with Gen. William Lyon, whose longtime area homebuilding company, William Lyon Homes, recently filed plans to raise up to $200 million in an initial public offering.
Gen. Lyon and his family still retain a 50% ownership interest in Lyon Communities, which currently appears to be a more valuable and profitable company than the homebuilder, which felt the brunt of the housing bust.
Market Cap, Properties
Lyon Communities estimates it now has a market capitalization of about $2 billion. The company has apartment properties in California, Colorado, Florida and Georgia, and its portfolio counts an occupancy rate of about 94%.
It has bought more than 20,000 apartments over the years and has helped build and renovate an additional 30,000 units while being an opportunistic seller.
"We're not trying to be the largest. We're trying to be the most profitable," said Suryan, who owns the other 50% stake in Lyon Communities.
The company's valuation isn't likely to drop any time soon, with annual rental rate growth approaching 10% or more in some of its larger markets in California, as well as a development pipeline now topping 1,000 units.
Two of the company's most-anticipated developments are moving ahead in Santa Ana.
The company is well under way with a 300-unit development called The Marke at MacArthur Boulevard and Main Street in the South Coast Metro portion of the city.
Construction at the four- and five-story project, being developed in a partnership with Newport Beach-based Integral Communities, is said to be ahead of schedule and set for completion by November.
The Marke "is the best one we've done, so far" in terms of quality, high-tech features and forward-looking tenant amenities, Suryan said.
Among other features, it will hold an outdoor sports bar, resort-style swimming pool, 7,600-square-foot clubhouse, fitness facility, Wi-Fi cafe, gourmet demonstration kitchen, video game area and two bowling lanes.
Also on tap: a pet grooming spa for residents' furry friends.
"We don't just want (residents) with pets," Suryan said. "We'll take care of your pets."
Prev Next