MERIDIAN PROJECT FIRST IN MORE THAN 20 YEARS
High-End Homes Aimed to Fill Newport Center Void
Sunday, April 28, 2013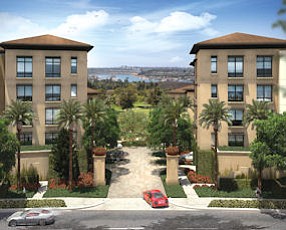 When the company paid a reported $50 million for the 50-acre Lambert Ranch land in 2010, OC's housing market showed few signs of an imminent turnaround.
There's a much more optimistic feel as Meridian moves ahead, particularly for higher-end projects.
Dana Point's Strand at the Headlands custom-home development, for instance, has seen more than $50 million worth of land sales so far this year, according to the developer (see Luxury Column, page 12).
"We're expecting a strong reception" to Meridian, Redwitz said.
Busy Center
The new housing project comes along with an already-heavy dose of nonresidential construction in and around Fashion Island over the past several years.
A multiyear, $100 million revamping of the 1.5-million-square-foot Fashion Island shopping center has included the addition of a 32,000-square-foot Whole Foods Market, an upgraded Island Cinema and several new restaurants.
Irvine Company, the owner of Fashion Island, also is moving ahead with a pair of office towers in Newport Center, including a 19-story building next to the real estate company's headquarters.
The "live" portion of the "live-work-play" atmosphere at Newport Center has been harder to come by.
There's been little new residential development eyed in the area besides Meridian—other than a high-end, 524-unit apartment complex proposed by Irvine Co. to replace San Joaquin Plaza, an older office complex it owns.
Yet there's a need, Redwitz said.
"There's a lot of people (at Newport Center) who want to walk to work," he said.
The builder expects employees at Pacific Investment Management Co. will be among the buyers at Meridian, along with workers at the dozens of other large businesses in the area.
Prev Next