Founders of Fisker Testify Before Congressional Subcommittee
Thursday, April 25, 2013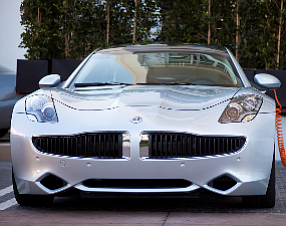 The founders of Anaheim luxury hybrid automaker Fisker Automotive Inc. testified before a Congressional subcommittee yesterday, attempting to explain what went wrong with the troubled automaker.

Henrik Fisker, who shares a name with the automotive company he helped found with Bernhard Koehler in 2005, attempted to shed light on "what the company and I did right, what went wrong, and where factors beyond our control intervened" during his testimony before the House Committee on Oversight and Government Reform on Wednesday.
At the center of the hearing was the $529 million Department of Energy loan the company received. Fisker Automotive drew down $192 million of that loan before it was suspended in 2011 after the company missed certain production and sales milestones on its first and only model, the Karma sedan.
Fisker Automotive missed its first payment on the loan due earlier this week. DOE officials confirmed the department seized the automaker's $21 million reserve account earlier this month, which is now being put toward repayment of the loan.
The company has sold 2,000 Karmas to date with a starting retail price of roughly $100,000. That's far below the original 12,000 cars the company had originally targeted to sell last year.
The troubled automaker shed most of its work force—roughly 160 people—earlier this month and is reportedly exploring bankruptcy after talks with potential investors stalled last month.
Fisker outlined a series of challenges the automaker faced in his testimony Wednesday, pointing out regulatory hurdles, two recalls, and irreparable damage to 330 Karmas during Hurricane Sandy.
The bankruptcy of the automaker's sole battery supplier, A123 Systems Inc., last year halted the Karma's production, and difficulty finding a new supplier was "a crippling factor in restarting production of the Karma," Fisker told the committee.
The lack of a full vehicle model lineup was the longer-term challenge the automaker faced in gaining market share.
"You cannot build a successful car company with just one car—you must have a portfolio, with multiple models for consumers," Koehler, cofounder and chief executive for Fisker Automotive Europe and Middle East, said during his testimony.
The company's second model, the Atlantic sedan, has been in development for the past two years with design and engineering on the car nearly complete.
"Given the experience and learning gained from the Karma, our expectation was that the Atlantic would be sold at lower prices, allowing a broader customer base the opportunity to own a Fisker car," Koehler said.