REAL ESTATE: SHUTDOWN SET AS NEW PIMCO HQ NEARS FINISH
Newport Center's Gateway Plaza to Go Dark
Saturday, April 13, 2013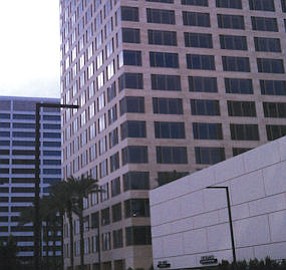 Irvine Co. said in filings with the city that it plans to continue providing security, electricity and landscaping services at Gateway Plaza after its closure.
Access to the buildings will be provided only for maintenance and security reasons, according to city filings.
Gateway Plaza is one of two older—and relatively affordable—Newport Center office properties slated for closure by Irvine Co., the dominant landlord in that upscale office market.
Newport Center Drive ranks as the ninth most-expensive street for office tenants in the U.S., according to Chicago-based brokerage Jones Lang LaSalle, with average monthly rents at $4 per square foot or higher.
San Joaquin Plaza
Last year Irvine Co. filed plans with the city to re-entitle San Joaquin Plaza—which is the company's office park near San Joaquin Hills and Jamboree roads—for a 524-unit apartment complex.
San Joaquin Plaza includes five buildings that run two and three stories, totaling about 241,000 square feet.
Irvine Co.'s website no longer lists space at San Joaquin Plaza as being available for rent, and the complex is expected to close next year.
Allowances for the existing office square footage at San Joaquin Plaza, once closed, would be transferred to 520 Newport Center Drive to allow that 19-story office to open, according to city filings.
Construction at 520 Newport Center Drive should be completed by 2015. Irvine Co. has not announced definitive leasing plans for that building, but it has suggested it could house some of its own operations.
A time frame for apartment construction moving ahead at the current San Joaquin Plaza site has not been disclosed; it would be the second for-rent residential development owned by Irvine Co. in Newport Center.
The company—the largest apartment owner in Orange County and its most active apartment developer of late—also owns The Colony at Fashion Island, a high-end complex a few blocks away from the proposed project at San Joaquin Plaza.
Prev Next