HOW HOMEBUILDER PLANS TO "HIT FOR AVERAGE"
TRI Pointe's Post-Recession Approach
Saturday, April 6, 2013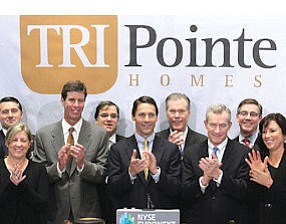 TRI Pointe's move to the public markets was rapid. The IPO took place only about 40 days after the company filed its initial registration statement with the Securities and Exchange Commission.
Scottsdale, Ariz.-based builder Taylor Morrison Home Corp. announced plans to go public in early December, nearly three weeks before Tri Pointe, but has yet to launch its IPO.
The endurance of Bauer and his two partners was put to the test during the company's whirlwind, 2 ½-week roadshow prior to its IPO. Their itinerary included meetings with more than 200 investors in the U.S. and Europe.
Great Park
The downside of gearing up for the IPO, Bauer said, was that the company wasn't able to get involved in a of couple of potential land deals, such as the first phase of development at Great Park Neighborhoods in Irvine.
The company is interested in working with Great Park's master developer, Aliso Viejo-based FivePoint Communities Management Inc., in future phases of homebuilding at the development, Bauer said.
The transition to a public company hasn't made too much of a change in terms of personnel, Bauer said.
The company now counts about 75 employees, with a majority of its staff working out of the company's Irvine headquarters at the Impac Center office campus.
TRI Pointe's offices serve as a good reminder of the ups and downs of the area's real estate market.
The Impac Center building was originally built largely for John Lang Homes, which went out of business in 2009, about a year after the five-story office was built.
TRI Pointe's ties to another area builder, William Lyon Homes, go beyond its top executives.
Other executives who count stints with Lyon include Vice President of Operations Mark Sherman; the company's two vice presidents of project management, Tom Grable and Mike McMillen; and the company's division manager for Northern California, Jeffrey Frankel.
TRI Pointe's three cofounders still play much of the same roles they did at the time of the company's creation, according to Bauer.
Grubbs acts as the "financial brains" of the company, and Mitchell is "one of the best homebuilding operators in the business," according to Bauer. Operations still run in a similar manner, with weekly sales-focused meetings on Mondays, and operating meetings with the company's three divisions (Southern California, Northern California and Colorado) on Tuesdays.
That leaves the rest of the week open for the company's executive team to travel to current and potential development sites.
The company's largest investor is chairman Barry Sternlicht, head of Greenwich, Conn.-based private equity firm Starwood Capital Group, which helped jumpstart TRI Pointe's operations with a $150 million investment in 2010.
Bauer said he speaks with Sternlicht—a friend he's known for more than 20 years—about twice a month regarding the company's operations.
"He's the world's best partner," Bauer said. "He picks operators and lets them do (their work)."
Prev Next