Crane to CEO at Electric
Saturday, April 6, 2013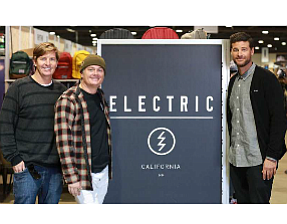 Electric Visual co-founder Eric Crane has taken on the top spot at the San Clemente-based eyewear and accessories company.
Crane most recently served as chief commercial officer at Electric.
He succeeds former Chief Executive and co-founder Bruce Beach, who led the company for 13 years.
A third Electric co-founder, Kip Arnette, will continue to serve as chief design officer at the company.
Beach saw Electric through its sale to Costa Mesa-based Volcom Inc. in 2008 and Volcom's subsequent sale in 2011 to Paris-based Kering (pronounced "caring"), which is in the process of changing its name from PPR SA.
Crane rejoined Electric last year after having most recently served as global vice president of product and design at Encinitas-based accessories company Nixon Inc.
The executive change comes on the heels of a rebranding and growth strategy at Electric announced earlier this year that will see the company expand its product lineup and enter new categories, including watches.
International growth is also planned, with Electric appointing Reid Pinder managing director of its Europe, Middle East and Africa business last month.