TECHNOLOGY: TOSHIBA'S HARSHMAN COMBINES SKILL SETS
Lawyer Engineers TV Unit's Integration Into Irvine
Saturday, September 29, 2012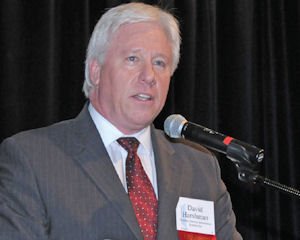 "It was a tough time here for a while," he said. "A couple of lawyers passed away suddenly. It was difficult for the business side, the legal side and, of course, the emotional aspect of everything. All I can say is everybody here at TAIS and also other outside counsel were very supportive."
Harshman also has assisted Toshiba America Information Systems in its 2009 acquisition of Fujitsu Ltd.'s hard disk drive business.
Tech Marketplace
He described today's technology marketplace as quite a contrast from "the old days," when intellectual-property cases were few and patent lawyers spent much time in the office writing applications.
"There are a lot of intellectual-property litigations these days," he said. "That's a reflection of the times and the appreciation for the technology aspects. I'm also a registered patent attorney. Before, we would sit in the back rooms and write patent applications. Now we're in courtrooms. These are interesting times."
Interest in patent law was "a logical extension" of previous studies for Harshman, who has a bachelor's and master's degrees in engineering and worked as an engineer through law school at University of San Diego. His legal career started at Fleit & Jacobson, an intellectual property firm in Washington, D.C.
Teaching Job
Harshman launched his own practice a couple of years later in Carlsbad, then joined San Diego-based Gascard Inc. as vice president and general counsel.
He spent another three years as a partner at Nydegger & Harshman in San Diego before coming to Orange County in 1990 to work at Irvine-based Gradco Systems Inc. as corporate counsel.
Harshman is a part-time professor at California State University, Fullerton.
"I like teaching," Harshman said. "I appreciate the opportunity to do that. I teach one night a week, currently teaching employment law. I had taught entertainment law and Internet law before."
He also is a musician who has played for 10 years with a band at Red Hill Lutheran Church in Tustin.
"I play electric bass and guitar," Harshman said. "Having played in bands in my younger days, I volunteer at church. Sometimes I'll be saying that I feel restless. That means I haven't picked up my guitar in a while."
He's involved in the Special Olympics as a volunteer and is a member at the Arc, an organization that serves people with developmental disabilities.
Prev Next