REAL ESTATE: COUNCIL SEEKS NEW USES FOR OLD CITY HALL
Apartments or Hotels for Balboa Peninsula?
Sunday, September 16, 2012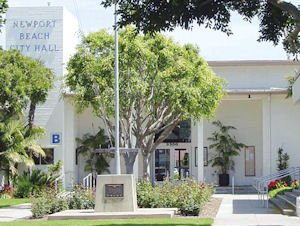 Scenarios
The land, under an apartment scenario, would likely have a value of about $13.6 million and would bring in more ground rent-related revenue to the city than the hotel project.
Building a hotel would result in the land having a residual value topping out closer to $5.5 million.
"Clearly, residential (development) on a direct basis has the highest residual land value and would provide us the highest direct revenue," councilman Edward Selich said.
A boutique hotel, on the other hand, would provide area businesses a much larger economic impact―$20.6 million versus $2.1 million for apartments, on an annual basis―according to city figures.
Those figures are "eye-popping," councilman Steve Rosansky said.
A key question will be whether the city wants to effectively subsidize the hotel's construction for the benefits of surrounding business, Selich said at last week's study session.
Residents and business officials speaking at last week's hearing favored the hotel scenario, which city planning officials noted could require ballot approval if a project running as large as 120 rooms is selected.
Pros and Cons
Gary Sherwin, chief executive of trade group Visit Newport Beach, said that when he "is selling Newport Beach to the world, there's a lot of 'pros' and very few 'cons,' but the one 'con' we do face is that we have very few hotel rooms that are really on or near the beach."
"We do lose some business because of that," Sherwin said.
City projections for the proposed boutique hotel estimate rooms would average rates of around $200 per night, and expect a stabilized occupancy of about 75%. City council members, noting the lack of other nearby, larger hotels along or near Balboa Peninsula, suggested both those projections might be low.
Market Study
Newport Beach's hospitality market runs a little less than 3,000 rooms, with 17 hotels.
The Los Angeles office of PKF Consulting, a hotel research and consulting company that helped the city with its initial market study for the land, believes there's enough demand in the Lido Village area to support two new hotels.
PKF recommends a 120-room boutique hotel for the City Hall site—similar in design and feel to Shutters on the Beach in Santa Monica, or Canary Hotel in Santa Barbara.
There's no guarantee a hotel developer will find the city's proposal economically viable, one reason city officials said they're still exploring apartment development uses for the site for the time being.
"We need a back-up plan," Selich said.
Prev Next