REAL ESTATE: DEVELOPER SEEKS MORE UNITS, CERTAINTY ON PARK LAND
FivePoint Draws Line on Great Park Deal
Sunday, September 2, 2012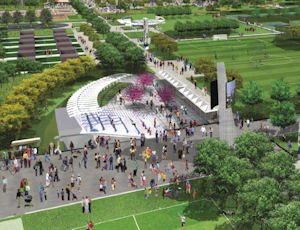 Funding for the long-delayed 1,300-acre park has been in limbo for most of the year, after the state of California eliminated its long-standing redevelopment agencies.
The cuts included an Irvine agency that was expected to raise nearly $1.5 billion for the development of the actual Great Park.
Tax revenue from home sales at the 3,700-acre Great Park Neighborhoods also would be used to fund the park's development.
RDAs
The new funding plan would bridge some of the funding gap left by the dissolution of the redevelopment agency.
"It puts us back on track," Haddad said. "It helps fill the donut hole in my development."
Getting city approval for the new plan isn't a sure thing, especially amid an election season that includes seats on the Irvine City Council and the mayor's post.
Lalloway's initial response illustrated the challenge.
"This is being jammed down our throat" in an election year, he said.
FivePoint has been negotiating several aspects of its development master plan agreement with the city in recent months.
Getting the city to relinquish its ability to sell off portions of land it owns at the Great Park to other developers remains one of the main sticking points.
Such a deal could compromise Five Point's master plan for the area, Haddad said.
Haddad said he's willing to walk away from its latest proposal and let the city sort out funding for the Great Park on its own if it insists on keeping the right to sell off land there.
Prev Next