Downtown Santa Ana Makes New Mix
Sunday, October 28, 2012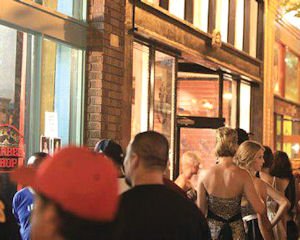 "My dad worked through high school, worked through college. So he knows what it is to come up and work hard, and I think he sees his parents in a lot of these people, so it's really hard for him," Chase said. "We've tried to be as fair and as compassionate as we could, and at the end of the day, quite frankly, it ended up hurting us."

"Best Downtown"
Downtown received a nod earlier this month from OC Weekly, which dubbed it Orange County's best downtown for what the area is today: a "perfect" mix of both the old and the new.
The area's new vibe helped sway Bruce Marsh and his wife Naseem Aflakian to come downtown. The couple is set to open the Little Sparrow Café by mid-December.
"It has a lot of great historical aspects there and good old bones that make for a very authentic place," Marsh said.
The 1920s building is currently being restored and turned into a retro cafe that will open at 7 a.m., serving baked goods for breakfast and sandwiches for lunch. The restaurant will reopen for dinner with a full bar.
"We were very encouraged by all the hometown businesses," Marsh said. "There's just a general sense from everybody that there's something going on down there."
Little Sparrow is seen as another move of the dial for downtown by offering breakfast, Downtown Inc. Executive Director Vicky Baxter said. Gypsy Den and Subway are the only two restaurants currently serving breakfast, she said.
Little Sparrow will be another option for other visitors who rarely ventured there only a few years ago: jurors, lawyers, judges and civic center employees who work a couple blocks away at the Santa Ana Civic Center.
"We didn't see that at all in 2009," Baxter said of the civic center employees. "We might as well have been a mile from the civic center."
A free trolley, running from 11 a.m. to 2 p.m. during summer 2011, shuttled federal and state employees to downtown. It's no longer in place, but they continue coming.
"Now, we don't have the trolley. They still come, but they walk and that was the goal for them to realize we're not a mile away; we're two to three blocks away," Baxter said. "They didn't understand how close downtown was, and at the time we didn't have a lot of restaurants."
The area also is attracting more Asians and Persians from other OC cities, Baxter said.