"CAUSE-BASED" BUSINESS TIED TO NONPROFIT NETWORK
Hendrick Boards Goes From Sick Dog to Hot Sales
Saturday, November 17, 2012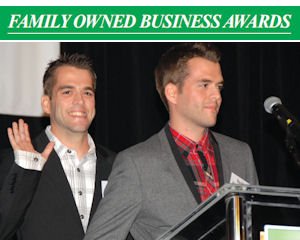 Hendrickson, with no business experience, quit all three jobs that day. He sold an old iPhone on Craigslist for $250 and used that money to buy a used silkscreen machine, also through Craigslist. He made every shirt out of his 300-square-foot Anaheim apartment during the first few months in business.
Hendrickson said he believes he has been successful because his products give back to animal shelters, nonprofits and rescues, attracting the attention of like-minded followers. Anywhere from 20% to 40% of each sale is donated to a nonprofit in the buyer's area.
The company currently supports 150 non-profits throughout the U.S., up 15-fold this year.
Hendrick Boards began contracting some services out about five months after its launch in order to keep up with demand.
In September the company was one of five small businesses selected from throughout the U.S. by American Express OPEN and Facebook to receive $25,000 and a "marketing makeover."
The company received a one-on-one social media consultation, which Hendrickson said has been an important tool for generating buzz since the start of the business.
"I was lucky enough to grow up with Facebook and Myspace, so it was just natural to use Facebook as a marketing tool, and it's free," Hendrickson said.
Plans
The company's sales have doubled every quarter this year, prompting plans to double its space to about 2,400 square feet with a move from Anaheim to downtown Fullerton within the next few months.
Hendrickson also is considering hiring more employees to help expand its nonprofit network, with a goal of doubling its numbers.
Retail will be a big focus next year.
About 85% of Hendrick Boards' sales come from online orders, largely driven by Facebook marketing, Hendrickson said.
The company's products are also sold in about 20 skate and surf shops in the U.S.
Next year the focus will be on getting into larger chains, with David Hendrickson eyeing retailers such as Anaheim-based Pacific Sunwear of California Inc. and Zumiez Inc. of Everett, Wash.
"I never want to fall back in sales," Hendrickson said. "I have to look at this as a business, and we need a profit to save animals."
Prev Next