"CAUSE-BASED" BUSINESS TIED TO NONPROFIT NETWORK
Hendrick Boards Goes From Sick Dog to Hot Sales
Saturday, November 17, 2012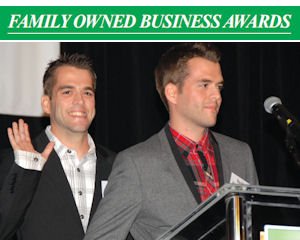 Anaheim-based Hendrick Boards started about a year-and-a-half ago with a rescue dog named William and $250.
The skateboard and apparel company has parlayed that into a strong following through social media, building a "caused-based" business with sales on pace to top $360,000 this year.
The company has three employees and sells about 80 different products, including 14 kinds of shortboards and longboards, along with T-shirts, tanks, sweatshirts, thermals and accessories.
It has donated more than $100,000 to animal rescue nonprofits since its launch last May.
Hendrick Boards was honored with a Family Owned Business Award in the Up-and-Coming category at the 13th annual Family Owned Business Awards presented by the Business Journal and California State University, Fullerton's Center for Family Business on Nov. 7 at the Hyatt Regency Irvine.
Founder and Chief Executive David Hendrickson works with his identical triplet brother Donny Hendrickson, who serves as the company's director of nonprofit outreach.

Donny took on the position after identical triplet brother Darren Hendrickson left the company in July.
"I'm lucky we get along really well," David Hendrickson said. "We've always been best friends and brothers. Any family-owned business you're going to fight, but more so than if we weren't family. The luxury is we're family, so we get over it quick, but very rarely do we not see eye to eye."
Shirts, Boards
The company's clothing prices start at about $25 and go up to $50, while boards range from $60 to $150.
Hendrick Boards is producing about 100 shirts daily, with the help of a contract screenprinting company.
Boards and accessories are made in-house.
The company focuses on using sustainable materials such as bamboo and water-based paints.
Hendrick Boards has grown rapidly from its early days when David Hendrickson was the company's sole employee.
Hendrickson was longboarding near Huntington Beach with his rescue dog William last year when he decided he was going to start his own business, selling products he was already familiar with: boards and T-shirts.
Hendrickson had racked up more than $20,000 in veterinarian bills after adopting William, who was poisoned in the womb after his mother ingested household chemicals. Hendrickson quit college to take on two additional jobs in construction and graphic design to pay down the debt. That was in addition to a job working with special-needs children.
His checking account was overdrawn by $700 at the time.
"I wasn't making it at all, and I thought life's too short," he said. "Obviously, I loved animals. If we just go through life without actually working for a cause, it doesn't mean anything."
Prev Next