BROKERS MARKET "TROPHY TOWERS" AS BEST OF BEST
Class A+
Saturday, May 19, 2012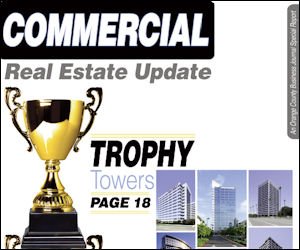 Today's market for office sales in Orange County is a far cry from the go-go days of 2006 and 2007, when higher-end buildings here commanded sale prices approaching $400 a square foot and traded hands between eager investors like chips at a poker table.
But don't tell that to Emmes Group of Cos.
The New York-based real estate investor thinks its 19-story tower in Irvine's Park Place mixed-use campus, called The Michelson, is worth nearly $100 more per square foot than any other large office in the area to trade hands of late—and perhaps much more than that.
The high-end building—which totals 536,000 square feet and counts Hyundai Capital America, L.A. Fitness International LLC and a bevy of big-name law firms as tenants—was put up for sale last month.
The Michelson is on the market without a firm asking price, but the buzz is that Emmes—which has brokerages Eastdil Secured and Orion Property Partners marketing the property—is seeking a price as high as the tower. The building was built in 2007 during the area's last big flurry of commercial development.
Local Record?
Sources said Emmes could be looking for a sky-high price of $500 to $525 per square foot, which would suggest a possible sale price of up to $280 million or so. Such a price would likely set a record for a single-building office sale in OC, as well as a local record for a per-square-foot price for a larger office property.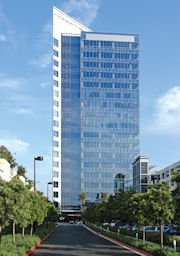 A number of observers familiar with the office-sale market expect a buyer—and perhaps several—to meet Emmes' asking price.
"There's already some qualified groups looking (at the building); the only question is how high the bidding will go," said Paul Jones, vice president for the Newport Beach office of CBRE Group Inc. and part of one of the region's most active investment property brokerage teams.
A sale at the price Emmes is rumored to be seeking would make a lot of other recent local investors a lot more comfortable about their own big-dollar investments. Buildings in the area around John Wayne Airport topped out at prices a little more than $400 per square foot during the last commercial real estate boom.
The highest square-foot price paid for a large, airport-area building that was sold without highly leveraged financing of the sort now largely unavailable came in the sale of 4400 MacArthur Blvd. The nine-story Newport Beach office traded hands in June 2007 for $64.3 million.
Prev Next