AIM OF FASHION ISLAND'S $100 MILLION MAKEOVER
Downtown Direction
Sunday, June 24, 2012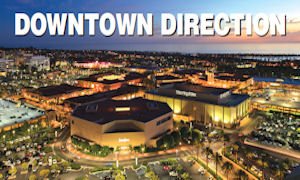 The store's pricing ranges from $35 home fragrances and candles all the way up to bedroom sets that could easily go for $10,000.
"Our demographic is a laid-back West Coast upscale guest," Wood said.
Dining has also been elevated in the process of remodeling Fashion Island.
"A key part of this whole transformation too was an emphasis on food and really trying to elevate the dining options at the center," Sheridan said. "We want to have different types of food offerings for different types of visits and different types of people, but certainly the focus has been to bring in fresh-to-market, unique restaurants that you can't find anywhere else in Newport Beach or Orange County."
Sheridan—who joined Irvine Co. late last year from General Growth Properties—points to True Food Kitchen, with a focus on fresh and sustainable foods, as a good example.
Fig & Olive
There's also Fig & Olive, which will open next summer in a restaurant pad that's part of an additional 22,000 square feet currently under construction at Fashion Island.
"They have the whole dynamic of the community of restaurants to bring some of the best restaurants in the U.S. both on the casual level at the center and also at the high-end level," Fig & Olive founder Laurent Halasz said.
Fig & Olive, with locations that include New York's Meatpacking District and Melrose Place in West Hollywood, is known for high quality olive oils used across its entire menu.
"Fashion Island is becoming the center of Orange County," Halasz said. "I would say the dynamic a few years ago was not as amazing as it is now. There is no other place like this where you will have this type of destination in Orange County."
Prev Next