AIM OF FASHION ISLAND'S $100 MILLION MAKEOVER
Downtown Direction
Sunday, June 24, 2012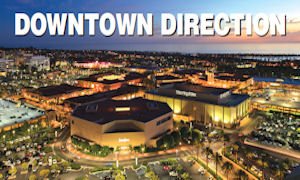 The recently re-opened Island Cinema is Fashion Island's version of a red carpet venue. A 32,000-square-foot Whole Foods Market is set to open in September.
"Street-Type Retailers"
The rest of Fashion's Island's retail strategy has zeroed in on what Sheridan called "more street-type retailers that you might see on Melrose (Avenue) in Los Angeles and SoHo or the Meatpacking District in New York."
Storefronts at Fashion Island face shaded walkways connected by central courtyards with fountains. There's new plush seating and more outdoor dining areas, setting up strolls in the fresh air that take on the feel of a metropolitan shopping district.
Irvine Co. executives said the renovation helps Fashion Island stand out from competitors. That's a short list, with nearby South Coast Plaza the only one in Orange County of similar stature.
South Coast Plaza executives don't typically comment on competitors.
Executive Marketing Director Debra Gunn Downing said the center aims to keep its standing by "making sure we attract only top-tier retailers and brands because that's what our sophisticated customers expect from us."
Plenty of retailers have bought into the new vision for Fashion Island.

More than 40 new stores have opened over the past two years. The change-out has brought plenty of hipness and high-end appeal, ranging from a showroom for electric vehicle maker Tesla Motors, denim retailer Earnest Sewn's new shop, and the arrival of fashion and pop-culture boutique Kitson, whose store on Robertson Boulevard in Los Angeles regularly attracts celebrities.
More are set to come, including the home goods and women's fashion boutique Roberta Roller Rabbit, named after a fable that founder Roberta Freymann discovered on a piece of fabric found in India.

Tenant Mix
The tenant mix at Fashion Island helped sway Freymann, who usually puts stores in urban shopping districts, with shops on Lexington Avenue in New York and in San Francisco. The Fashion Island store is scheduled to open this summer and will be the only one in OC.
"Fashion Island is not only a destination for fabulous clothes but offers a wonderful home assortment as well," Freymann said.
Offering visitors Orange County exclusives with stores such as Freymann's is another part of the Fashion Island remake.
Tommy Bahama, the island-inspired apparel and accessories maker, has a grand opening set for Labor Day on its first-ever home store.

"There's not a better market for us than in Orange County, and then when you say, 'Where in Orange County do you go,' it's just demographically perfect," Tommy Bahama Group Inc. President Doug Wood said. "Since Fashion Island already has some home furniture stores, people are used to going there for their home furniture."