AIM OF FASHION ISLAND'S $100 MILLION MAKEOVER
Downtown Direction
Sunday, June 24, 2012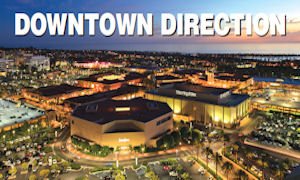 Fashion Island is going downtown.
Hometown developer Irvine Company (see related story, upper-right) is nearing the completion of a $100 million renovation of the upscale Newport Beach shopping center.
The four-year effort has so far brought Palladian-inspired architecture, Italian light fixtures, more outdoor seating and a wave of boutique retailers and restaurants more commonly found on urban streetscapes than traditional malls.
"What we've tried to create is the downtown of Newport Beach, if not even the downtown of broader Orange County, where people do come to shop, they come to eat, they go to work, they live and they enjoy the outdoor environment," said Dan Sheridan, president of Irvine Co. Retail Properties.
The developer has geography on its side.
Fashion Island sits in the center of circular Newport Center Drive and the middle of Newport Center, a premier business address that's home to big local names such as Pacific Life Insurance Co., law firm Stradling, Yocca, Carlson & Rauth, and the Irvine Co.'s corporate headquarters. Pacific Investment Management Co. LLC will move from its current Newport Center address to a 20-story headquarters down the street. Irvine Co. is developing Pimco's new office.
Fashion Island also is situated amid a highly desired draw area for retailers. Big Canyon County Club is the center of a neighborhood full of upscale households right next door. More are nearby, with Corona del Mar and Newport Center to the south. Newport Harbor features deluxe homes and yachts to the north.
Civic Center
Civic institutions also promise a downtown feel. A $128 million civic center and 16-acre park is in the works. It includes a new City Hall, which will move from the Balboa Peninsula, an expanded Newport Beach Central Library, and a 450-space parking structure.
Those developments, along with recent and pending additions to Fashion Island's retail lineup, add up to the mix of uses—office, retail and residential—that prompt talk of the "live-work-play" atmosphere that many big cities aim for with their downtowns.
"With the combination of the office and the living places and the entertainment that the shopping center brings, those different types of uses and attractions are exactly what most people think of when they think of a downtown like a Chicago or even a Manhattan," Sheridan said. "It's all those different uses working together and people not necessarily having to drive. It's all right there at their doorstep."
Fashion Island's retail merchandising has been a key to creating a downtown feel, making over the shopping landscape and bringing new amenities.
Prev Next