Charter High School for Arts Gets Beyond Humble Start
EDUCATION: Ex-teacher gives credit to donor community
Saturday, January 21, 2012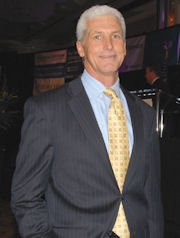 Steven Wagner sees a turnaround story when he looks back at the history of the Orange County High School of the Arts and the 10-plus years he has spent there as chief financial officer.
OCHSA is a charter school that serves students from 7th grade to 12th grade, with a focus on performing and visual arts in 11 art conservatories.
It counts 1,750 students, and an annual application pool of about 3,600. Students come from more than 100 cities throughout Southern California. The school has an annual budget of about $15 million, part from the state and part from families and foundations.
Humble Beginnings
Wagner remembers that the school's beginnings were rather humble.
"When I took over, we were over $2 million in debt," Wagner said. "We owed huge amounts of money to textbook companies, to Apple [for our] computers and to other vendors. The school was very close to bankruptcy."
Wagner was one of the key executives who helped bring the school around and grow it.
Wagner was honored in the Not-for-Profit Category at the annual CFO of the Year awards presented by the Business Journal and the Orange County and Long Beach chapter of the California Society of Certified Public Accountants on Jan. 17.
He joined the administrative team in 2001. The school and its foundation have raised about $40 million since then.
Wagner was long involved with OC schools prior to coming to OCHSA. He was the principal at Serrano Intermediate School in Lake Forest from 1999 to 2001 and taught at Los Alamitos High School for about 15 years prior to that.
OCHSA was founded in 1987 as an after-school arts program on the campus of Los Alamitos High School. Wagner was teaching biology and physics at Los Alamitos at the time.
"That's where I met Ralph [Opacic]," Wagner said.
Opacic, then another teacher at Los Alamitos, is the founder and executive director of OCHSA.
OCHSA was reorganized as a charter school in 2000, the same time it moved into the Santa Ana campus from Los Alamitos. That was a $20 million purchase.
"The transition was a huge learning curve to take over all the regular business functions of a school," Wagner said. "Before, a school district was managing all the day-to-day operations, and we only had to teach. Now, we had to deal with human resources, budget, and all the finance stuff. We also had $1.2 million in facility debt."
Prev Next
Page 1 of 2.