CHUNG HITS CHINA CHALLENGE; CLUBS' OWNER MOVES ON
Balboa Break Up
Saturday, January 14, 2012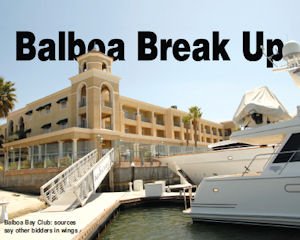 The August announcement of the sale raised plenty of eyebrows in OC real estate and social circles, due to the two properties' prominence among the area's rich and famous, Chung's involvement and the expected high price tag.
The deal had been the most prominent Southern California real estate acquisition announced by Chung, an electric-battery magnate and philanthropist with a quirky biography. Over the past year or so, he has announced plans to invest hundreds of millions of dollars in area businesses.
His biggest plans besides the two clubs call for building an electric battery factory somewhere in Southern California that could employ 2,600 workers.
Busy Past
It's unknown whether trouble getting money out of China will hinder Chung in his other local ventures.
Chung has already made good on a number of other area deals, buying stakes in several Southern California companies with the potential to tie into his electric battery operations.

He has closed on a $24 million investment in Fountain Valley-based Gaffoglio Family Metalcrafters Inc., which makes prototypes and designs for large automakers.
Chung also has put $28 million into Krystal Koach Inc. in Brea, one of the country's largest limousine makers, and several related businesses.
He's also been a benefactor, giving $10 million to the engineering school at the University of California, Riverside.
Other Deals
Among other real estate transactions that are still up in the air, Chung was also rumored in the summer to be in for a Newport Harbor mansion once valued at nearly $35 million. That deal hasn't closed.
International Bay Club is privately held. It's owned by Beverly Ray Parkhurst, whose former husband, William Ray, bought the Balboa Bay Club nearly 40 years ago and followed up with the Newport Beach Country Club in 1985.
William Ray died in 1991.
The nixed deal with Chung's business is the second time a proposed sale of International Bay Club is known to have fallen through.
The company was last put up for sale about 12 years ago for a reported $74 million in a deal that was never completed.
Prev Next