REAL ESTATE: SOURCES HINT AT PRICE TAG OF $500 PER SF OR MORE
Park Place Tower Could Test Record
Saturday, April 28, 2012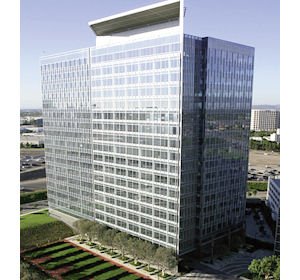 The property is expected to bring in net operating income ranging from $16.2 million and $18.8 million over the next three years, according to marketing materials.
A sale would bring a third owner to the Michelson office tower, which was built in 2007.
The tower—originally called 3161 Michelson—was built by Los Angeles-based Maguire Properties Inc., which now operates under the MPG Office Trust Inc. name.
Maguire sold the tower—which was initially slated to hold the headquarters of defunct subprime lender New Century Financial Corp.—to Emmes in a move to shed debt a few years after the building opened.
Emmes paid about $160 million, or $300 per square foot, for the building, which it renamed The Michelson.
It's one of two Emmes-owned office properties in OC. The other is a Newport Beach office complex that holds the headquarters of chipmakers Conexant Systems Inc. and spinoff Mindspeed Technologies Inc.
Institutional investors and real estate investment trusts were buyers of two other recently built offices in the airport area in recent years and would appear to be the most likely type of buyers of the Michelson building.
Recent Comps
Boston-based institutional investor AEW Global paid about $108.5 million, or $345 per square foot, for the 2050 Main St. office tower in Irvine in the priciest office sale seen in OC last year.
Los Angeles-based Kilroy Realty Corp. in 2010 paid about $103 million, or nearly $380 per square foot, for an office located a few blocks from the airport at 2211 Michelson Drive.
It's not known whether Newport Beach-based Irvine Company, OC's biggest office landlord, would be interested in buying the office. The company's apartment division has a 980-unit project that's expected to break ground this summer on the southern edge of the Park Place campus.
Irvine-based LBA Realty, which owns the remainder of the office buildings at Park Place, along with retail buildings at the mixed-use campus, is known more for making value-added investments in buildings with high vacancies. LBA is not expected to bid for the office, according to sources.
Prev Next