FOLLOWS BUY IN SUNNYVALE; APARTMENTS IN SAN JOSE?
Irvine Company Plans Office Campus in Silicon Valley
Sunday, November 6, 2011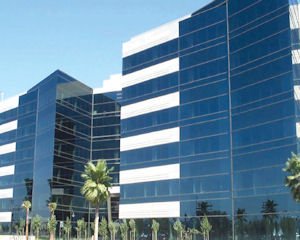 Newport Beach-based Irvine Company is making a big development and acquisition push into Silicon Valley, according to reports there.
The real estate owner and developer—and Orange County's largest landlord—is moving ahead on a 41-acre office campus in Santa Clara, according to a recent report in the Silicon Valley/San Jose Business Journal.
The project could move ahead next year, and apparently will be built on a speculative basis. It's slated to open as soon as early 2013, according to the report.
The midrise office project, dubbed the Santa Clara Gateway, will total about 450,000 square feet spread among three buildings. The offices will be the first in Santa Clara for Irvine Co., whose Northern California office portfolio largely runs in and around Sunnyvale and Milpitas.
Irvine Co. has reportedly owned the land for the project since 2000, and once envisioned building more than 900,000 square feet of offices there. The project's plans have been postponed and scaled back over the years.
The Irvine Co.'s development plans would likely be the second-largest new office project to go up in the region. Palo Alto-based Menlo Equities LLC is said to have a 735,000-square-foot Santa Clara office campus in the works.
Menlo has been among the most active office and industrial buyers in OC over the past year, spending close to $150 million for office and industrial properties near John Wayne Airport, among other buys.
The Silicon Valley development plans come a little after Irvine Co. paid a reported $132 million—or about $282 per square foot—for Central Research Park, an eight-building, 468,000-square-foot office campus in Sunnyvale.
It bought the campus from Archon Group, an affiliate of Goldman Sachs Group Inc., according to the Silicon Valley/San Jose Business Journal. The complex is nearly full, with a roster of tenants that includes Dell Inc. and Juniper Networks Inc.
The Silicon Valley is the strongest office market in California, with vacancy levels of about 7% for the area's best space, according to recent reports.
As in OC, Irvine Co. also has apartment development plans in the works for Silicon Valley.
It's considering tearing down two older office buildings in North San Jose and building about 450 apartments, according to reports.
Irvine Co. already owns about 10 apartment complexes in Northern California, according to the company's website.
Senior Sale
A recently built apartment complex that targets older residents is trading hands, according to area brokers.
Jacaranda, a 131-unit active adult apartment community in the Sunny Hills area of Fullerton, is being sold to a unit of New York-based JP Morgan Chase & Co.
Prev Next