COMPANY THROWS BASH IN SAN CLEMENTE, STARTS ADS
Oakley Throws Surfer Party To Roll Out Boardshorts
Sunday, May 29, 2011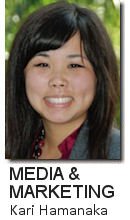 Foothill Ranch-based Oakley Inc. is looking to its sponsored surfers to sell its pricey technical boardshorts.
The company, part of Italy's Luxottica Group SPA, kicked off the debut of its shorts with a San Clemente beach party.
The shorts sell for $120 in stores.
Oakley hosted a bash at The Shore hotel in San Clemente for local media and retailers.
"We invited local surf media and surf accounts that will be carrying" the shorts, known as the Blade, Oakley spokeswoman Alyssa Gross said. "Our surf team was in town, so that was a bonus for us to have them attend the party and support the launch."
The party was used to show off the shorts to attendees, Gross said.
Oakley's calling the shorts "the most technologically innovative design ever created."
Oakley, long viewed as the action sports industry's leader in technologically advanced gear, made the Blade to stretch more than 120% with an inner short that supports blood circulation to reduce muscle fatigue.
The ad campaign consists of print and outdoor ads with Oakley-backed surfers, such as Adam Melling.
Print ads, which started in May, are in trade publications such as Surfer, Surfing and Blisss.
Outdoor ads at transit stops are set for June and July.
Taco Bell 12 Pack
Taco Bell Corp. is using a Philadelphia hip-hop group in a TV and digital ad campaign to promote summer sales of its Taco 12 Pack.
It's the first time the Irvine-based Mexican fast food chain, part of Louisville, Ky.-based Yum Brands Inc., is using one of its sponsored music artists in a TV spot.
Hip-hop duo Chiddy Bang has its music featured in a commercial for the Taco 12 Pack, which is being sold for $10.
The ads could help the chain regain sales momentum lost in Taco Bell's most recent quarter.
Taco Bell saw sales fall 2% during the period, even though sales of restaurants open at least a year were up 4%.
The company faced a lawsuit in the quarter challenging the content of its meat. The lawsuit was withdrawn by the plaintiff in April, but not before having some impact on sales.

Chiddy Bang is part of Taco Bell's six-year-old Feed the Beat program.
The program has supported 365 up-and-coming artists with sponsorships, co-marketing opportunities with Taco Bell and $500 in Taco Bell Bucks for after-show snacks.
Past Feed the Beat artists include indie rock bands Neon Trees and Manchester Orchestra.
Prev Next