HEALTHCARE: QUALITY CONTROL KEY; DEVICE HAS INDUSTRY ATTENTION
Cameron's $107M Plan: FDA Trial, Manufacturing
Sunday, May 29, 2011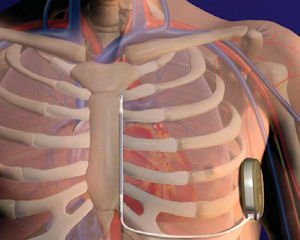 Cameron could seek to do an initial public offering or sell to another company if Boston Scientific, which made an undisclosed investment in the company in 2004, passes on its option to acquire it.
Cameron's funding round is one of the largest seen here.
Fisker Automotive Inc., an Anaheim-based hybrid auto developer, raised $100 million earlier this month, bringing its total raised to $1 billion in investor and government financing.
Last year, Boston investment bank Leerink Swann LLC took the unusual step of highlighting Cameron as a company whose product could change the cardiac rhythm management industry and make it a potential buyout target.
Cameron's design avoids problems with electrical lead wires, which have led to complications, regulatory recalls and bad publicity—something analysts have said blemished the implantable defibrillator sector's growth and progress.
Cameron's "unique, differentiated, disruptive technology" could have a major impact on the worldwide heart rhythm management market, which is worth more than $7 billion yearly, said Rick Wise, a Leerink analyst who hosted a conference call on the company.
Larger companies "may need to consider developing (or) gaining access to this technology as it becomes more real," according to the invitation to the conference call.
Boston Scientific officials also have separately addressed Cameron.
During a 2010 conference, Ray Elliott, Boston Scientific's chief executive, said there would be a role for an implantable defibrillator without leads "whether Cameron turns out to be the solution or somebody else."
Boston Scientific plans "to have a play in that area," Elliott said.
Cameron has planned for other scenarios if Boston Scientific chooses not to buy it, according to Hykes.
The company believes its devices could be used in some 40% of patients who need implantable defibrillators.
"That's in the neighborhood of a $2 billion piece of the pie," Hykes said.
Cameron's funding history includes an initial round of $3 million in 2001 and later rounds of $31.2 million in 2006 and $51.5 million in 2008.
Versant Venture Management LLC, a Bay Area firm with a Newport Beach office, is one of Cameron's investors. William Link, an Orange County-based Versant managing director and a Cameron board member, said the device maker's performance "has exceeded our expectations."
Prev Next