ADS FOR UPSCALE BRAND GO "ASPIRATIONAL," YOUNGER
MossWarner Fights Frugal Trend in Delsey Campaign
Sunday, May 22, 2011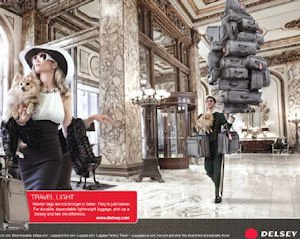 The office handles accounts for Indianapolis-based Brownstone Publishing LLC's Angie's List, a review site for local businesses, and Santa Monica-based people search site mylife.com Inc.
Ocean Media also picked up Manhattan Beach-based professional styling services company Just Fabulous, part of Intelligent Beauty Inc.
That account will stay in Ocean Media's Huntington Beach office.
St. Louis-based communications company Fleishman-Hillard Inc. has opened an office in Irvine.
Fleishman is part of New York-based advertising and marketing company Omnicom Group Inc.
The Irvine office is set to work with clients in technology, clean technology, healthcare and financial services, according to Southern California General Manager Della Sweetman.
It's unclear if the office will share work with Fleishman's offices in Los Angeles and San Diego.
More New Work
There have been a number of other new accounts for local advertising and public relations agencies here.
Irvine-based marketing agency Ink redesigned the website for Ladera Ranch self-storage company SmartStop Self Storage.
Irvine-based public relations agency LFPR LLC now is agency of record for the National Children's Study in Los Angeles and Ventura counties.
LFPR will help raise awareness of a childhood health study being done by the Center for Healthier Children, Families and Communities at the University of California, Los Angeles.
Santa Ana-based Carson Marketing Inc. landed recreational vehicles manufacturer MVP RV Inc. in Riverside. Carson Marketing so far has gotten MVP coverage on ABC and NBC and in the Los Angeles Times, Wall Street Journal and trade publications.
And Costa Mesa-based boutique The Hotel Hanford picked Irvine's ELA Advertising to be its agency of record.
Prev Next