MARRIOTT'S FULLER CALLS LAGUNA HILLS HOME, WORLD HIS MARKET
Local Guy, Global Focus
Sunday, May 22, 2011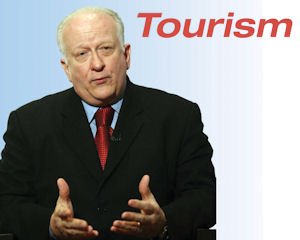 Laguna Hills resident Ed Fuller's job takes him to faraway places.
As president of Bethesda, Md.-based Marriott International Inc.'s global division, Fuller's responsibilities begin where U.S. borders end.
Since taking the helm in 1991, Fuller has overseen an expansion of Marriott's global portfolio from 16 to 400 hotels.
The aggressive approach is ongoing, with 179 projects in the works throughout the Middle East, Africa and Asia.
"This is an industry that's engine is going to grow dramatically," Fuller said. "Every year 16 million new people enter the middle class in the world today—and when you enter the middle class, you become a potential traveler."
Fuller's responsibilities have him out of the office and his Orange County residence much of the time.
He has called Laguna Hills' Nellie Gale neighborhood home since 1989, with a second residence in Reston, Va., near Marriott's headquarters.
Well-Grounded
Fuller keeps close ties here as chair of the University of California, Irvine's Paul Merage School of Business Advisory Board. He's also a member of the state's Travel and Tourism Commission.
"Those are my roots for now because when you're in this job, you don't have many roots," Fuller said.
He's known for an on-the-ground management style.
"Opening a hotel and dealing with the people—you can't sit in an office and do that," Fuller said. "You have to invest time in these markets and you have to spend time with the people."
Marriott counts 18 hotel brands, including Marriott, JW Marriott, The Ritz-Carlton, Renaissance and Courtyard.
The company also operates timeshare resorts and corporate housing.
It recently announced plans to spin off its timeshare business, which includes 71 properties with 33,000 rooms, to shareholders.
For the first quarter, the company reported a profit of $101 million on revenue of $2.8 billion.
Revenue per available room, an industry measure of sales, rose 6.5% in the first quarter.
International demand is expected to continue to be robust this year.
"Asia in particular is really riding the wave of opportunity," Fuller said. "Because it is such a large market we have not necessarily been in, the chances for growth are exceptional."
The company's largest project currently under construction is the 1,614-room JW Marriott Marquis Hotel Dubai on the Persian Gulf.
It's set to include 17 restaurants and bars, a sport and health club and 40,000 square feet of meeting space. The first phase is expected to open next year.
At the other end of the spectrum, a 237-room Marriott is being built in Rwanda in central Africa and is slated for a 2012 opening.
Prev Next